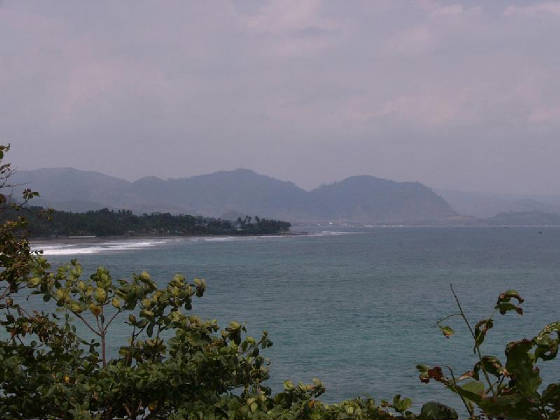 I took this picture up the rock of Karang Hau
My las time I visit Pelabuhan Ratu was on September 9, 2004. I came here for Surf Compitation in Cimaja. Pelabuhan Ratu is Formerly just a plain fishing village it has now grown into a lovely holiday resort, more and more visited by holiday makers from Jakarta and Bandung, a mere three-hour drive from either city through cool mountain villages with picturesque scenery Gradually but surely this area will catch up with the pace of development as is the case with Carita on the extreme West coast of Java. Pelabuhan Ratu Cisolok is a 15 km stretch of reathtaking beauty with hills, mountains and very wide sandy beaches everywhere around you, set against the deep blue Indian Ocean.

Truly rare is the fact that thick tropical forests on rolling hills are found right next to stretches of white beaches. Taking walks uphilenables the visitor to look down on the horseshoe shape of the bay's coastline, whereas at night hundreds of fishermen's boat lamps are seemingly competing with the star-studded sky above, which is both enchanting and romantic. There is one four-star hotel, the Samudera beach, about 6 km from Pelabuhan Ratu, but several other smaller hotels and cottages are available at moderate rates. At this virgin stage, this area represents unspoiled beauty in a typically tropical setting with hospitable inhabitants. Because of its proximity to Jakarta this area is visited by more tourists from the capital than those from Bandung. Moreover, the highways to and from Pelabuhan Ratu have recently been greatly improved to assure you of a smooth ride to enjoy the sceneries you pass even better. Don't forget to enjoy the fresh seafood at reasonable prices.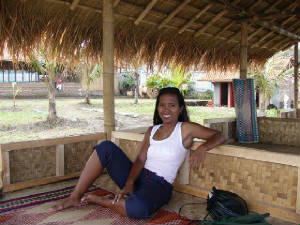 Its me, I just finish my lunch and relaxing with watching the view and the ocean
Warung Kuring is the best Sea Food restaurant with the nice view and also very cheap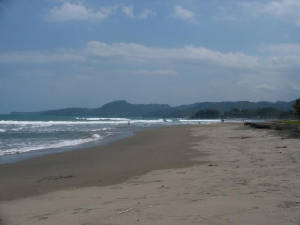 View from the restaurant
Pelabuhan Ratu translates into Harbor Queen; being called that in respect of the Goddess of the South Sea's , known to the Sudanese people as Nyai Loro Kidul. Yet throughout Java she is more popularly known as, Ratu Rara Kidul. The legend had its beginnings in the 16th century with the Mataram Islamic kingdom, where it is believed she gave the island of Java to Prince Senopati, who founded the kingdom of Mataram. This gift was on the condition that the prince & all his heirs perform a marriage ceremony with Ratu Rara Kidul, before taking a mortal wife, thus ensuring Ratu Rara Kidul's status as the 1 st wife. Even after the kingdom split in the 17th century all Sultans, Kings & Princes of Java, to this day, honor this requirement to take Ratu Rara Kidul as their 1st wife. The fishermen throughout Indonesia celebrate the queen's birthday on their New Years Day – 1 Suro in the Javanese calendar. (this is in April - May). These celebrations include sacrifices (korban) which are taken out to the sea & blessed by the local religious leader. Superstition has it that if the sacrifice sinks quickly, the queen is happy with the gift & the seas will be safe & plentiful for the year to come.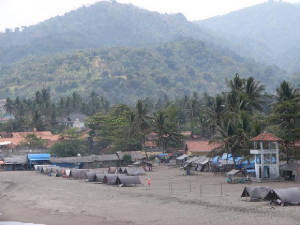 View from the top of the rock of Karang Hau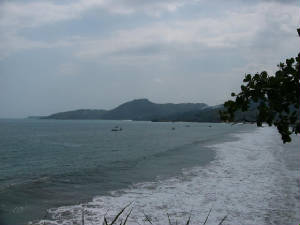 I took this picture from the top of Karang Hau, where's Rara Kidul room is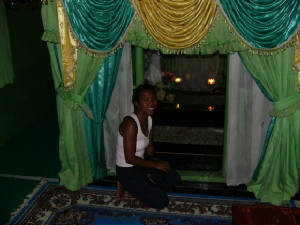 I was inside the room of Nyi Roro Kidul
Cisolok Hot Spring
On September 09 2004, Me and my family went to the hotspring for our tradition, you believe me or not it happen every year, actually this is my dad idea to come here and having a bath, he believe that if we come here we will find a happynest and i do believe him as we are having fun and we are happy when we are there, even we have to drive here about 3 hours by car and it did not stop us to come. Cisolok just 7 km westwards along the coast from Pelabuhan Ratu is the village of Cisolok. This area is famous for its hot water geysers and water geysers and sulphur hot spring and many people come here to enjoy the healing properties of the hot springs. For those wishing to stay in his attractive area for a few days, simple camping facilities are available.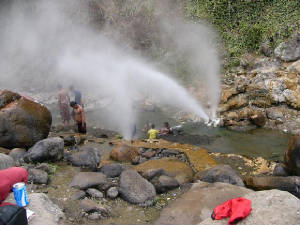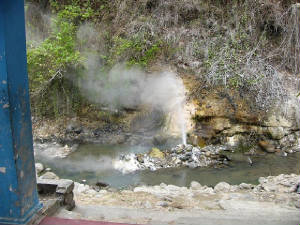 Cisolok Hotspring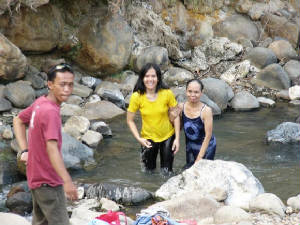 This is my older sister, my mom and my younger brother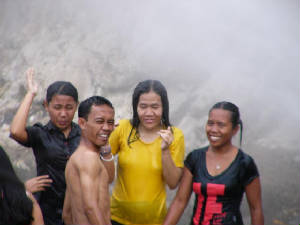 Me, my sister Eni, my younger brother Deri and my niece Irma, we are enjoying flasing hot spring :)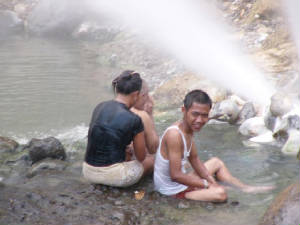 Me, my younger brother Epin who like surfing and my dad, but cant see his face his to shy he he
Quiksilver Open Cimaja, Pelabuhan Ratu, West Java, Indonesia
10th September 2004
Surfers wanting quality waves in uncrowded conditions can enjoy a surfing adventure to West Java at Cimaja Point Resort -awesome surf trip. This place gets good waves year round. With offshore winds all day from April - November and offshore mornings and late afternoon from December - March making this beachhouse a great spot to enjoy your Indo surf trip.

I join the the contest, just to feel what is like to be around the best surfer in Indonesia and also of course for my challange how good I am, how confident I am and how willing I am to be part of them. The most importen to me is being together like family, sharing the story from each person, and meeting new people. Honestly I am not that good :) but i keep trying to be better, I just do it for sport and for fun and i am not being want to be a famous as I already famous haha just kiding, also i am too old for this I just give a seport for my new friend from Carita West Java, she is 13 years old and she beat me damed WHY ...hehe, she is a great surfer she actually started from Win Surfing, i cant believe she is small but she can hold the kite where is the muscle come from maybe she is a doughter of SAMSON haha just kiding, and there is another one that makes me froud of him, he is 15 years old but he is working at the Pelabuhan Ratu as a Life Guard. He also surfing, he have to share his surf board with the other kids, there is only 2 surf boards and sharing with 7 kids everyday, they never fight or argue from each other, if one of the kids want to surf, they just wishling and they stop, and gave the board to other kids that who wants to play, for what they do, it makes me want to help them to buy them a board, but hopely one day as I promise him I will give him my old board and ask him also to teach my younger brother surfing :), as he is starting like surfing after his new Australian friend teach him how to surf in Pangandaran Beach, when he went camping with his friends. Here is some pictures that I took when I was in Cimaja.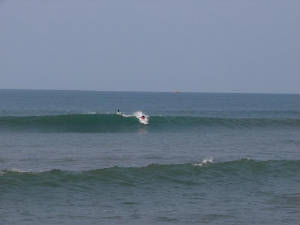 Just some of the excellent waves at Cimaja Point ...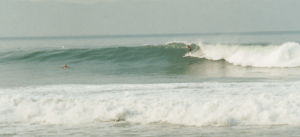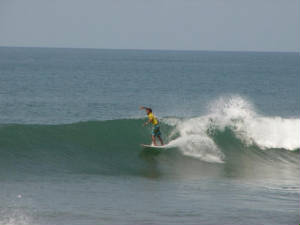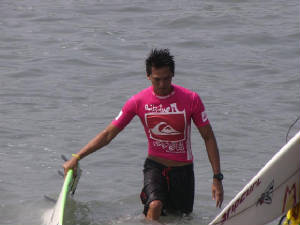 Rijal Tanjung the best surfer from Indonesia,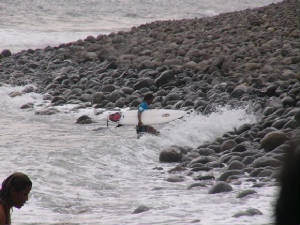 Its me after the contest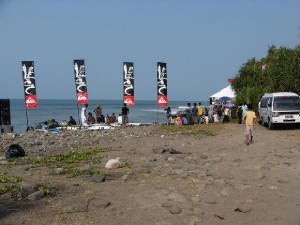 The Quicksilver contest in Cimaja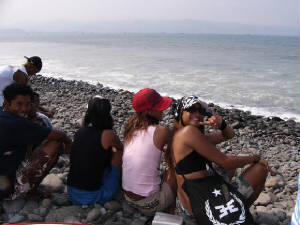 That is Chanele from singapure, next to her Ayako (no 2 winner) from Japan they are surfer girls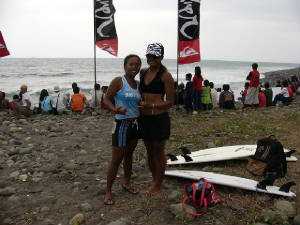 Me and Channele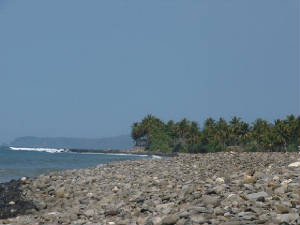 View from Cimaja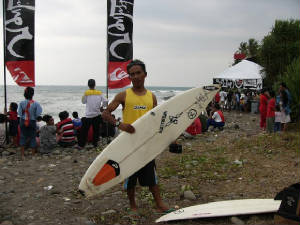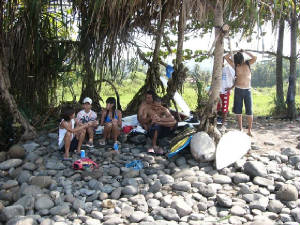 Surfers from Carita West Java, they are having a rest after surfing in the early morning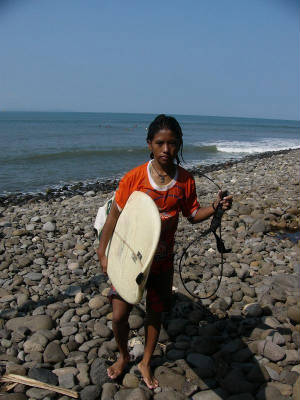 She is the future surfer girl, she is tomboy as well and of course good surfer who beat me grrr...:)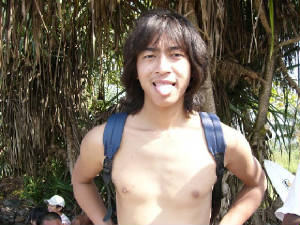 He is a friendly person that i met and I dont know why his doing with his tounge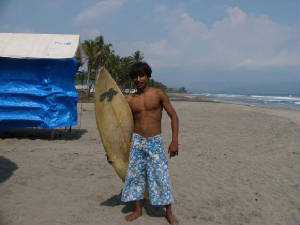 This boy is working as a life guard in Pelabuhan Ratu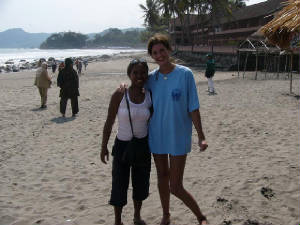 Me and my friend Lorna who come from Bogor just to see my contest,im glad she came even she was late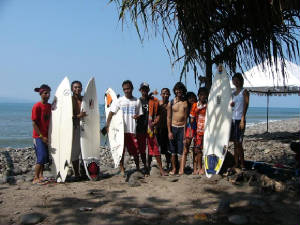 Surfer Team from West Java
I love this pictures and what do you think about my new board the one with ONLINE stiker???