The volcanic Mount Papandayan in Garut district, West Java, has been erupting continuously for the past week, prompting thousands of villagers to flee their homes.

The mountain is spewing hot ash and thick smoke 6,000 metres into the air. One of the worst affected villages is Kampung Stamplat, where the thickness of the ash on houses has reached two centimetres and destroyed local crops such as tea, potato, cabbage, and carrots.

At least 8,600 villagers from three sub-districts have been evacuated to mosques, schools and other buildings.
Many people have fled into nearby Pacen forest or are staying with relatives and friends.
Meanwhile, some 2,500 displaced residents of three villages are in need of immediate medical treatment for respiratory, eye, and stomach problems.
The limited numbers of medical staff on duty has caused long queues for treatment.

The 2,821 meters high mountain, situated about 300 kilometres southeast of Jakarta, last erupted in 1942. Volcanic experts also said the mountain has spewed one million cubic meters of materials which would be dangerous to humans if it were mixed with rain.

The dangerous status of Mount Papandayan will be reviewed by a monitoring team from the Energy and Mineral Resources Department over the next few days.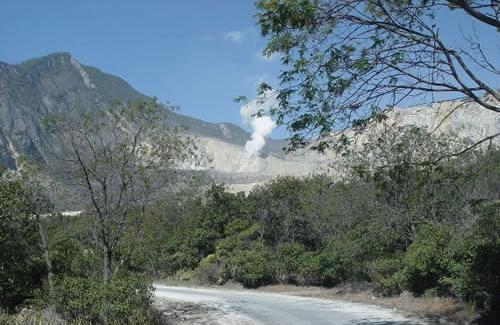 The view from Cisurupan