Anybody know where is Bali is? oh well I am sure you know where is Bali is, people from all over the world know where is Bali, but what makes me sad is they dont know Bali is part off Indonesia, they always though Bali is a country, oh well maybe they get F- at school on Geography he he. I am just joking, i dont know alots small island in this world , do you?

Its a long story why I am in Bali, actually just because I am broken heart by the man who dont have a responsible for my pregnancy ha ha ha no i am joking.

I fall in love from the 1st I came here on 1999, I came here with my friend and my older sister, so I decided to stay and find a job. but for 1 year staying, I dont go out much, I just working and going to Kuta beach for swimming, where I met my 1st local boys from Sumatra and Java that teach me how to swim in the ocean with bogyboard.

I only stay for 1 year in bali, and work in jakarta for 1 year and back to Bali again until now. so....I have been living in Bali for about 3 years now, and I have been visit places in Bali even in to a small villages, with friends that I met here also never forget party on the weekend and also I met lots of new friend from all over the world, and thanks to you guys to hang out with me, I hope you dont stop contact me because I really - really have a great time a while you are here and also I will love to show you around some places and if you guys need more info dont hesitate to contack me.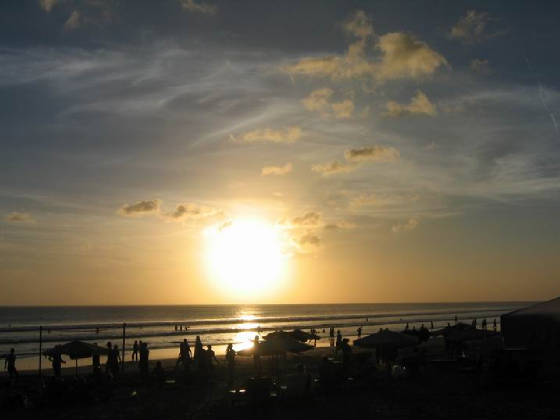 Sunset in Kuta Beach
Kuta
Kuta with its large assortment of hotels and restaurants in all price layers is without doubt the largest tourist area on Bali. Originally Kuta was just a small fishing village, but since the 1970's it has seen a huge growth in tourisem.

Kuta is a busy town for tourist, sometime I like it sometimes I don't, but I live here because so close to the beach only 10 minutes walk and 5 minutes drive with motorbike, I use to walking or drive my push bike every morning.

Kuta have a nice beaches but its dirty when the raining season and the windy season come, all the rubbish comes up, but dont worry people in Kuta clean it everyday, but still the water its already dirty. And also I spend a whole day at this beach when I am off work, meeting new people and also chatting with beach boys, I have a great time everyday, and never feel bored as I find a fun people and also funny people.

Here is some pictures of me with my friend Sin from Holand (his mix Holand and Indonesia), Vivian and Warren from California, Mic The Ozy man took this pictures and also some other friends from Jakarta.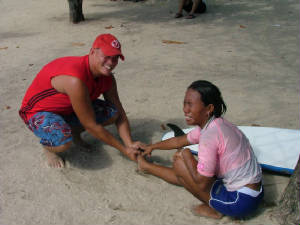 Sin and me, I was pretanding that I am in pain
Vivian and I, trying to carry a big board to surf together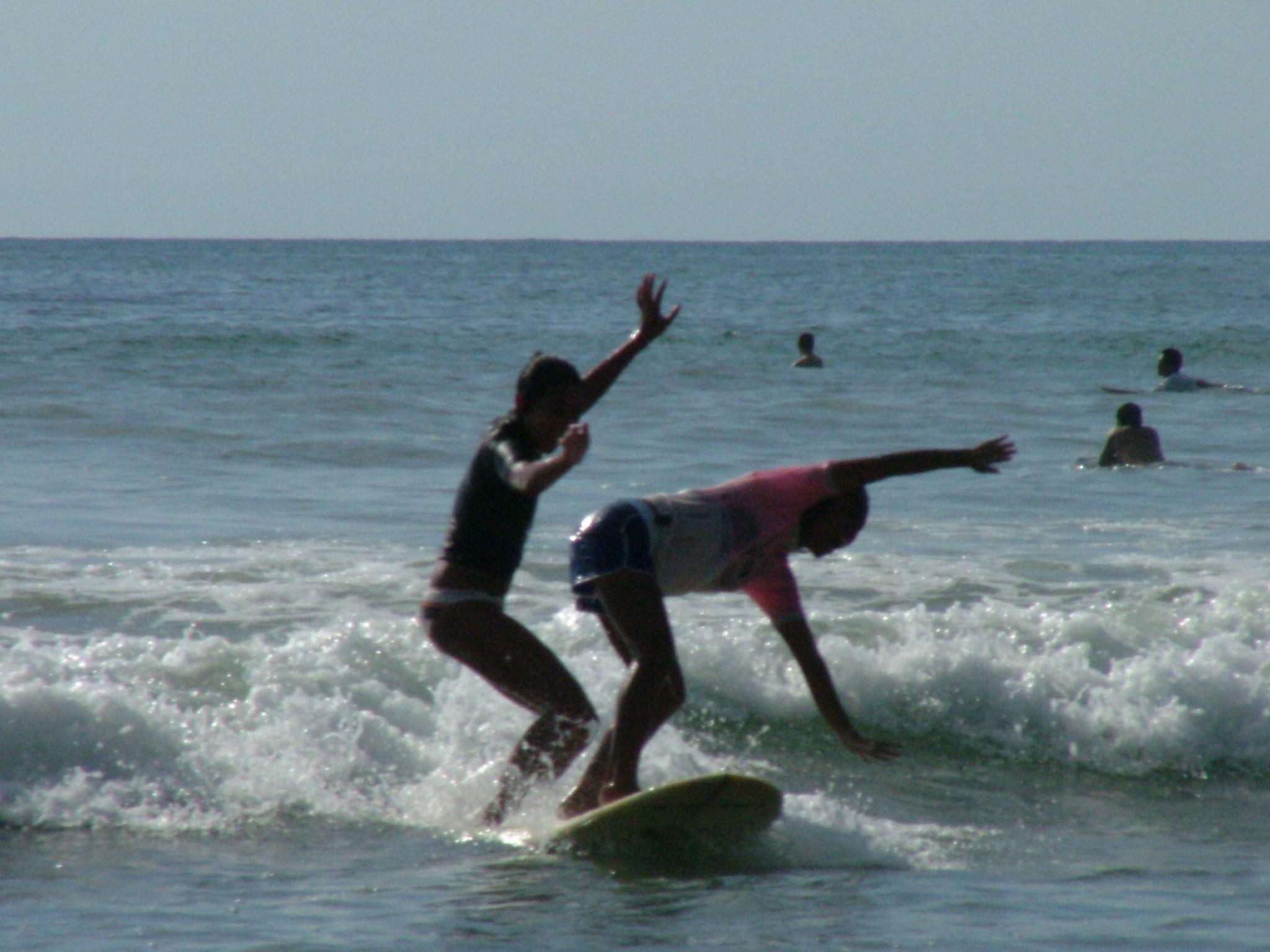 Here we are....1..2..3...we stand up together but only 3 second, oh well we try our best right Vi .?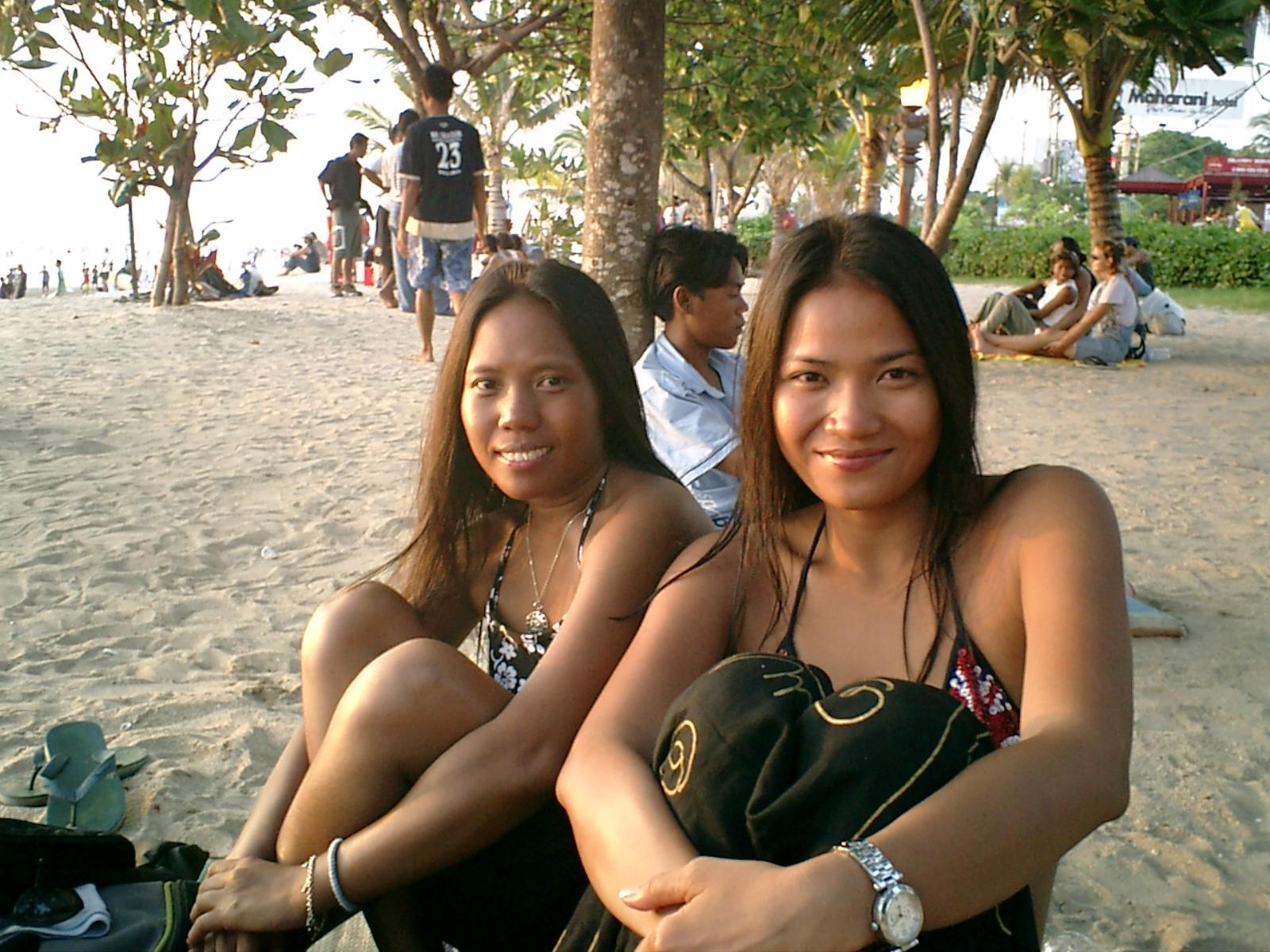 Me and Jasmine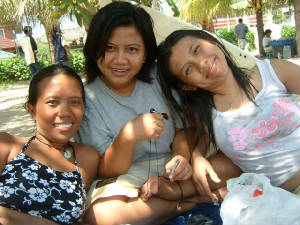 Me, Fenty and Debby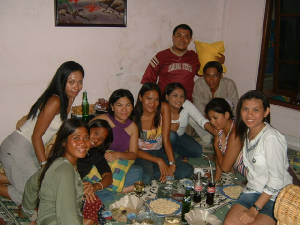 I was at the birthday party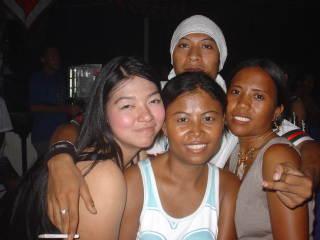 Party at Bounty Bar, Wulan, Me, Heti and Joe
Xmas Eve 2003 Dinner party at Mick house,and i got lolipop to,thanks Mick I miss your Barbeque party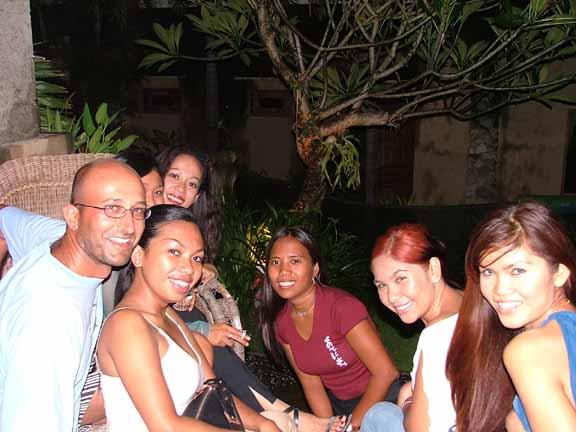 After dinner we had chat, at the teras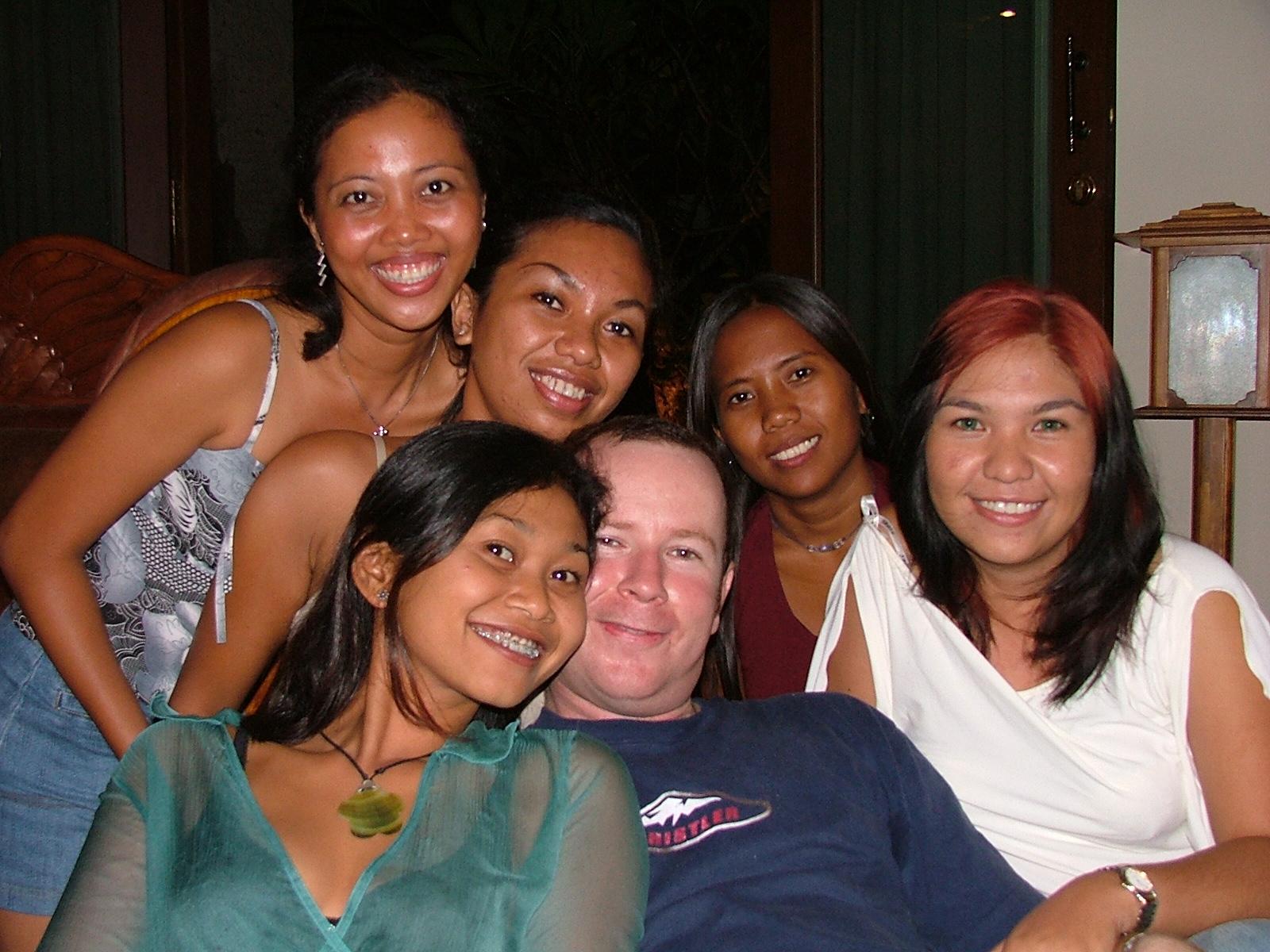 This is Mick in the middle, you are a lucky man buddy... :-)
DreamLand Beach
Dreamland is my favorite beach in Bali, nice white sand and also its not so hard to surf here. I come here a lot but I just sitting at the caf? and watch people surfing, and I was hoping one day I can surf here. Actually 1st time I surf here is with my friend Ebong , he ask me to surf in dreamland together with him when I met him at kuta beach, it was a high tide and always good waves in kuta when the tide is up, and he told me to go to dreamland with him, when the low tide is better surfing in dreamland, I was not sure about it but than he convince me, at the first I am scared like hell, but I remember the moment when I surf in Kuta Lombok before, so it makes me build my courage. I ask my friend Heti and Jasmine to join with me, So me and my 2 friends went to dreamland for surf, my friend Heti did surf too but this is her third time do surfing. When we arrived I look the waves not too big and smooth and Ebong said Go girl you will love this waves. And than I go as I cant wait to ride on it. So I got the 1st waves and Ebong shouting from the distant,WELDONE Ida, catch more waves and after that I surf here couple of times with some friends that i meet in Kuta beach and I do enjoy it.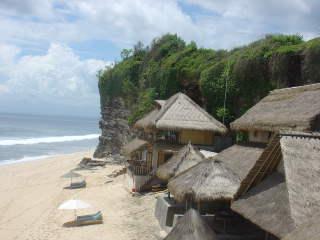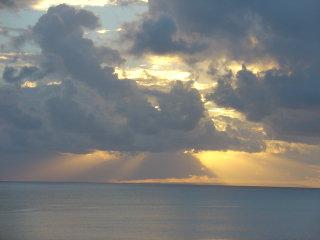 Sunset at Dreamland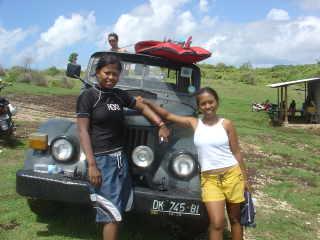 Me and Heti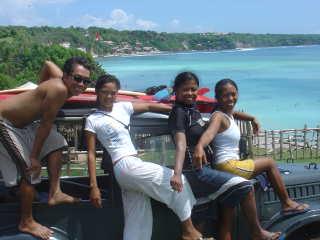 Ebong, Astrid, Heti and Me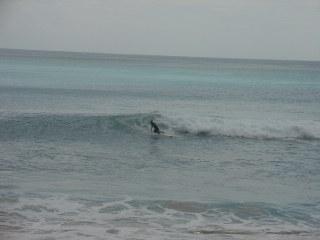 me fall he he .........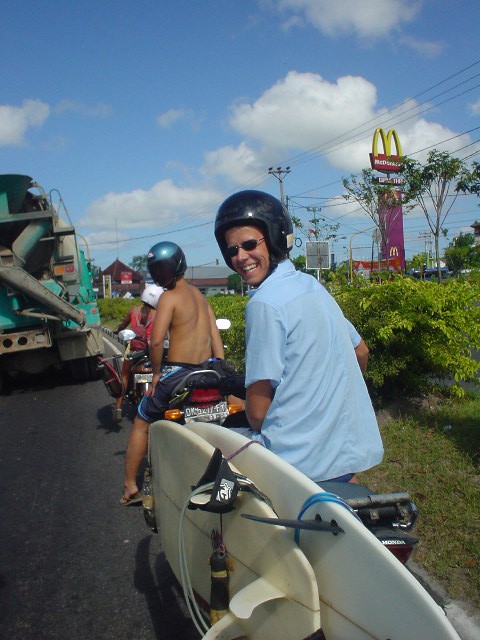 Rico, Sam second after him and Me the leader on the way to Dreamland
Me, Lee, Pra and Garden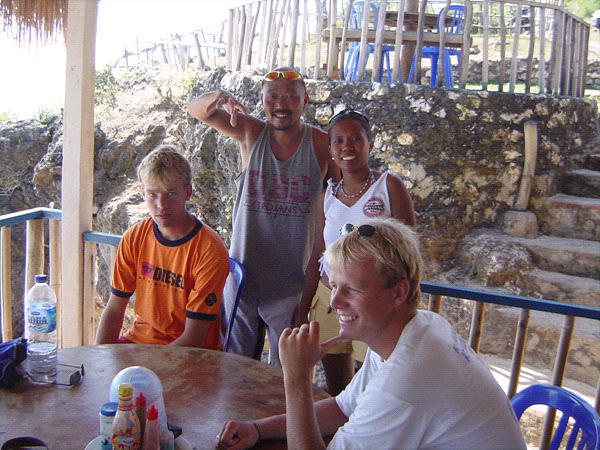 Rico (Holland), Me,Lim(Korean) and Leen(Holland) we are resting at Cafe Made after driving from Kuta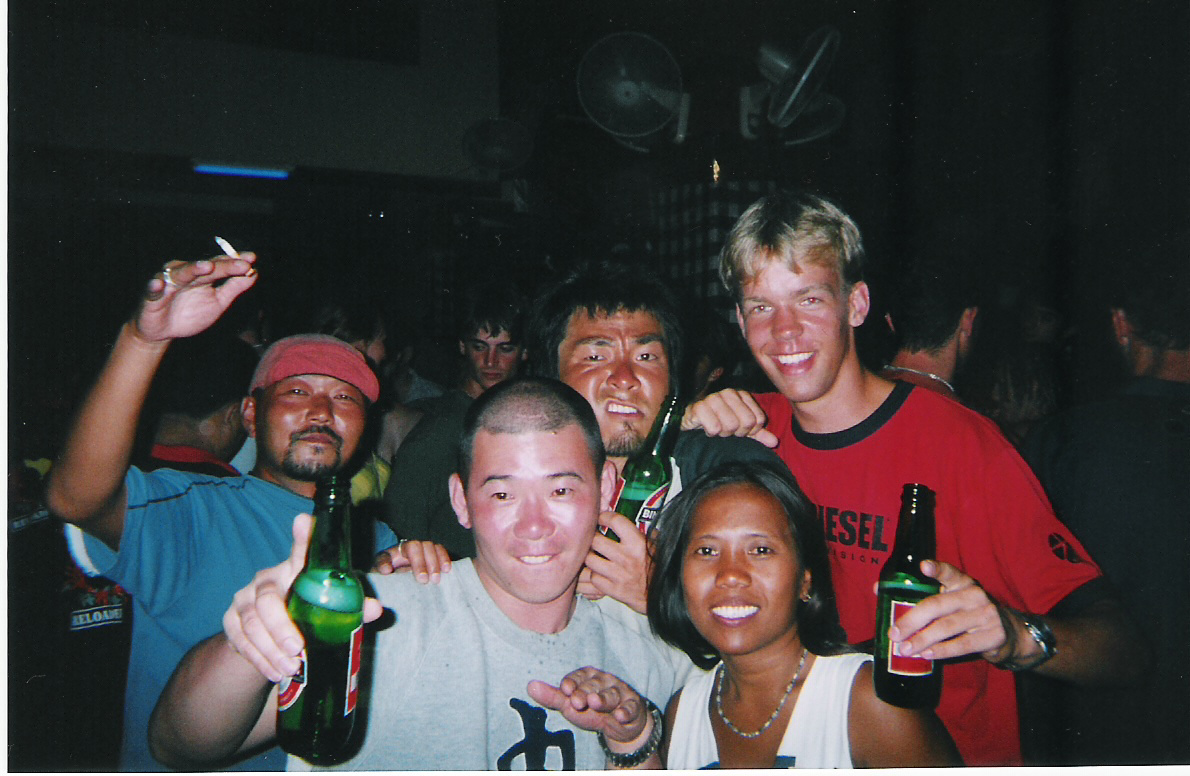 Surfing in the day time and Party at the night time, hehe nice eh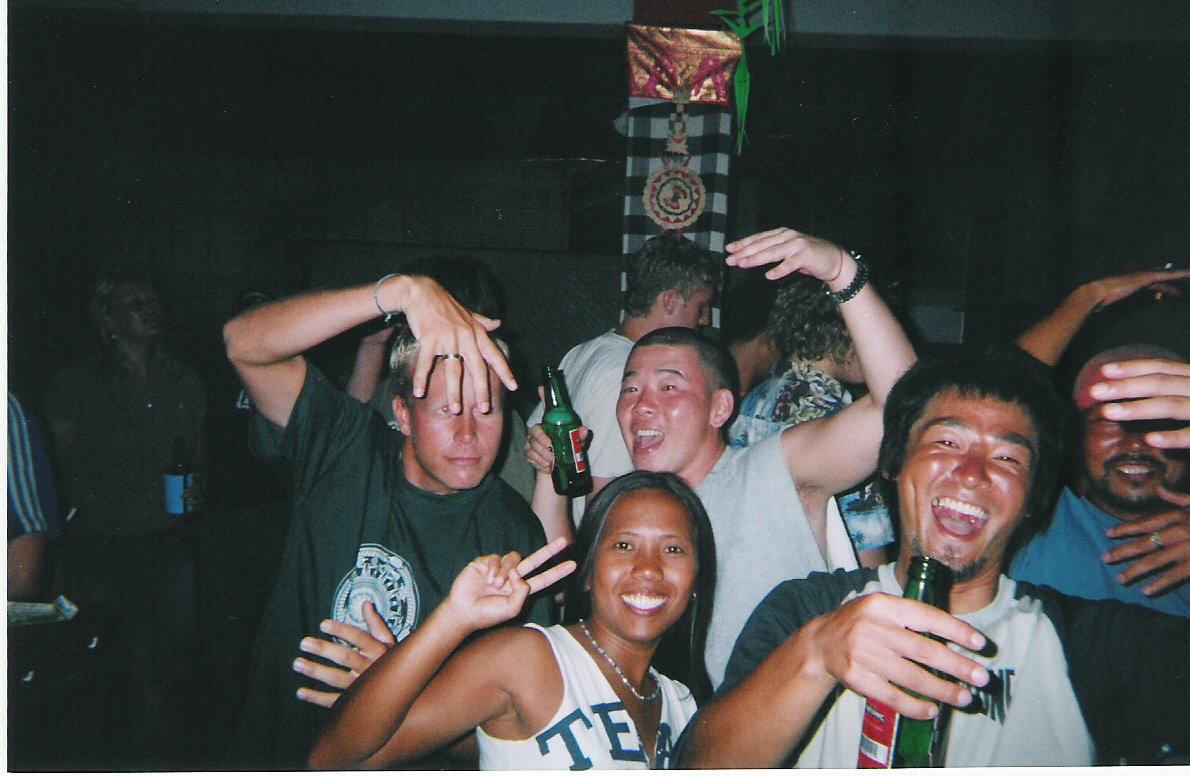 Party at the Bounty Bar, with my friends from Korea and Holland
Tanahlot Temple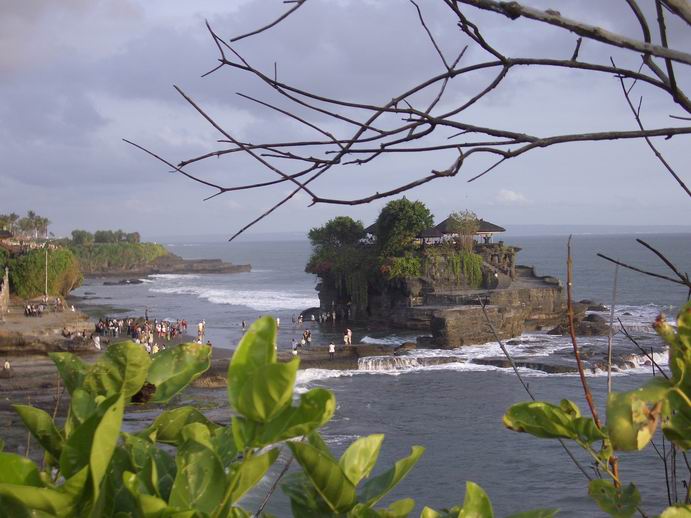 The west coast of Bali is very beautiful and wild. The rice fields of Tabanan are the most fertile in all of Bali, and from the wet areas, flat, stony rivers dump into a thundering sea filled with treacherous rips much feared by the Balinese. Some surfing is done in this area, but it is not recommended for beginners.

The beach around Tanah Lot is great for horse riding and watching dramatic sunsets, but for safe swimming, try one of the other beach areas described earlier.

Last time when I went to Tanahlot was whit my 2 friends from Finland that I met in Kuta Tipi and Tuomo and Iina, we went there with a Tiger Motorbike, its a quite big and good for long distant trip. Actually I was worry but after that I like it a lot, Toumo is a good driver it makes me miss Bogor, me and my friends usually go to Puncak Tea Plantation every Saturday Night, lots of young people do it until now. we went to Bedugul, Gitgit Waterfall and the last trip is Tanahlot for Sunset. I am happy to show them around and I hope they enjoy it too. Thanks for inviting me guys......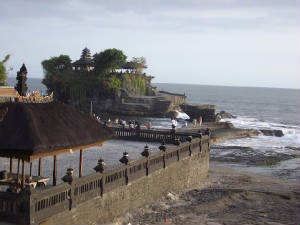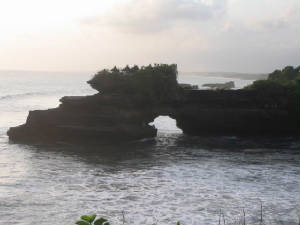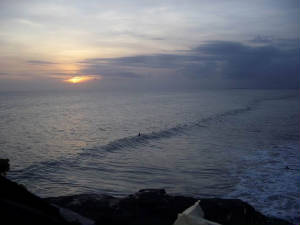 Me and my friends was watching sunset and also some people who was surfing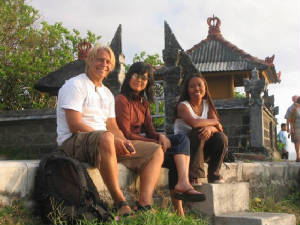 Tipi, lina and Me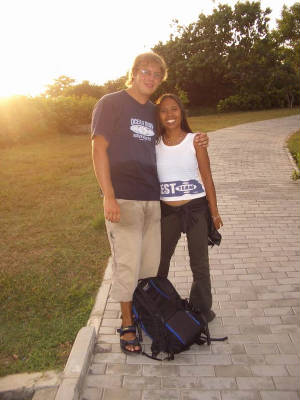 My friend Toumo and Me, he is a good motor bike driver.